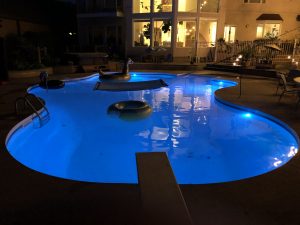 Swimming pool lights come in all shapes and sizes, and are no longer just white light – LED color pool lights are available for inground and above ground pools. In addition to wall-mounted pool lights, in 12V and 120V models, we also have rechargeable floating pool lights, fountain pool lights, and even floral …
Enhance your pool experience with lighting by creating a back yard ambiance that is uniquely you. Modify your environment to suit your tastes and mood, creating a paradise that extends far beyond your pool.
ML Pool Services are experts in lighting and can help you to revamp and service your pool lights.