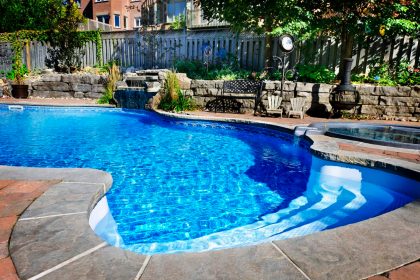 Swimming pools last a long time. However, every couple of decades or so, you probably will want to schedule a renovation. This will help give the area a nice, fresh appearance, and you will be able to take advantage of the new technologies that have developed over time. With the right company to help you the renovation process should be fast and deliver high quality and amazing results. ML Pools offers all types of pool services in Ottawa, Stittsville and the surrounding areas and our team will be glad to help you plan your pool renovation.
If it is time to think about an inground pool renovation project for your Stittsville home, here is a list to consider.
Budget
As with most major projects, you need to start with a guesstimate of what you are willing to spend. The basics include new tile and plaster or a new vinyl liner and a pool deck. Then you can explore any changes in the shape or include features you didn't have before. Even without the add-ons, expect that the new pool will be more expensive than the original build. After all, it has been about 20 years.
Find Ideas
This is the part everyone loves: Looking at sites and photos. Make selections and save them to your hard drive so that you have easy access. The important thing is to get a good idea of what the final product will look like, especially in view of the shape and size of your yard.
Costs
This is the part everyone hates. Start with local pool services, pool management companies, and new builders. There are a number of apps like NextDoor where your neighbours will be able to provide straightforward information about the companies they have used.  
Once you have come down to about three or four companies, schedule appointments for representatives to come by your home and give estimates, begin with your thoughts and ideas and ask if they have any concepts they would like to suggest. The company you choose should have experience with the type of changes you want to make.
Contractor
After you have considered all of this, you will need to find a pool renovation contractor. At ML Pools, we pride ourselves on offering pool renovations in Stittsville at competitive rates and delivering the best results. We offer a wide range of pool services for all pool types. Contact us today!